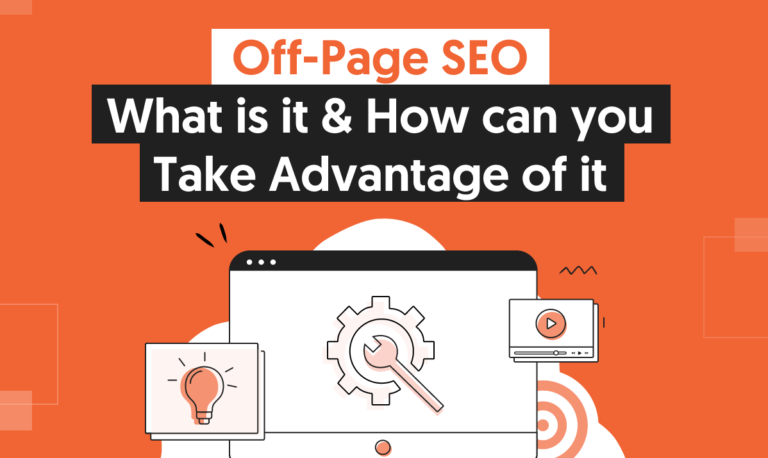 Search Engine Optimization Off-Site: The Definitive Guide
Are you looking for
Off-Page SEO
? Is your site struggling to rank for key terms? Do your competitors rank better and are driving more traffic than you? Suppose you have invested in a website – but it doesn't seem to perform as well as you hoped. You need some knowledge on how to make improvements.
If you are curious about what off-site techniques exist, Get online courses at
OCP Academy
and read this article that explores how you can take advantage of off-site techniques to drive traffic and Get knowledge of two important metrics of off-site seo are DA & PA.
Off-page SEO involves all techniques, strategies, tools, and tactics that can help support on-site efforts. Social networking sites such as Facebook, Twitter, and LinkedIn present excellent opportunities to showcase your business to many potential customers.
These sites also allow you to connect with others in your industry and obtain feedback about your services or products. Search Engine Optimization experts are constantly developing new strategies that can benefit off-site endeavours.
Link building
is another strategy that is commonly used in an off-site SEO campaign. An off-site link to your website from a reputable source conveys to search engines that your business is an upstanding community member and provides value to others who view it.
Why Is Off-Page SEO Important?
Search engines always look for the best and most relevant websites to include in their search results. If a website creates a consistent, thoughtful, and valuable experience for its visitors, it will naturally be included in the search results more often. It's important to remember that companies with more online authority can benefit from strategic off-page SEO efforts.
When embarking on an off-site SEO campaign, there are some tips you should follow to remain successful.
1. Make sure your content is updated regularly
2. Make sure you track the success and failure of your off-site efforts
3. Produce quality, original content that others will benefit from after they read it
4. Create strategies that align with your business goals.
Keep in mind that off-site SEO takes time to develop and can be difficult to measure. However, if you consistently and strategically implement these tactics, you will notice an uptick in traffic.
On-site SEO is focused on optimizing your company's website for search engine results. Off-site SEO is performed off-site, but it is also one of the most important and effective ways to drive traffic to your site.
There are
two important metrics of off-site seo are
domain authority(DA) and page authority(PA).
Domain Authority (DA): 
Measures how much influence a website has over other websites. It's a way for Google to see how important your website is. The more links to your site, the higher your DA will be. 
Page Authority (PA):
It is another measure of the importance of your website on the Internet. It measures how influential one individual page on your website is when compared to another page on a different site in terms of what content Google considers important.
Off-Page SEO Techniques that Work
Every business has a purpose and an objective. The more you know about your business from the inside out, the more strength you can apply to your off-page SEO campaign when developing strategies.
Some of the most effective methods for off-page SEO include keyword research, social media marketing, and link building.
Tactic 1: Link Building
Search engines tend to always look for quality in their search results. When you build a link from another website, your content will have value and be included on the page more often. Building links from authoritative websites that can boast higher search engine rankings is an excellent way to leverage off-page SEO techniques.
There are many methods that you can use to build links, but some of the most effective include:
1. Blog commenting

2. Guest posting

3. Press releases

4. Forums and discussion boards
Tactic 02: Brand Building
If you can identify the brand of your business, then you are on your way to establishing a strong foundation. A recognizable brand name is one of the most powerful elements in search engine optimization. When customers look for your company's products or services on Google, they will easily remember your name and seek your website to inquire about it.
Brand building is one of the most effective off-page SEO techniques that are straightforward. Here are some ideas that you can use to build a brand from scratch:
1. Create a memorable slogan
2. Develop a recognizable logo
3. Create unique and helpful content for your website and social media sites
4. Use these elements consistently in all marketing collateral.
Tactic 03: Keyword Research
Keyword research
is one of the tactics that are essential in any search engine optimization strategy. You need to know what keywords your customers or prospects use to search for your product or service. If they are searching for a term that is not being used on your website, it is an opportunity to introduce them to something new.
Here is how you can do keyword research:
1. Locate keyword tools that offer suggestions about keywords and phrases your visitors may use when seeking a product or service like yours
2. Track the number of online searches for each term over time
3. Determine what type of phrases are used most often and why
4. Analyze your competition to determine which searches are being conducted
Tactic 04: Content Marketing
Content is the glue that holds everything together. It is the reason that many people use search engines in the first place. When you create useful and informative content, it will be shared on social media websites and help you build a larger community of followers. These social connections are the connections that will help you optimize your off-page SEO efforts.
People who enjoy reading your content will stay on your site longer and look for new information about your products or services. If an individual comes to your site and reads a post, then you have a chance of them adding a link back to it from their website through the use of backlinks. These methods work well because they allow people to share content with friends and colleagues who become customers or clients.
Tactic 05: Tracking and Analysis
The most important aspect of any SEO campaign is measuring the success of your efforts. Many companies using off-page SEO for years have not conducted analytics properly or have not done it at all. It is important to track the number of visitors to your website, the pages they view, how much time they spend on those pages, what type of keywords are being used to search for your product or service, and more.
Final Words:
Off-page SEO is an ongoing process. It does not happen overnight and it does take time for you to see results. If you consistently implement these tactics, however, you will notice an increase in traffic over time. Always remember that off-page SEO campaigns are usually not directly convert into leads and sales, but they will help build trust and brand awareness of your product or services.
DIGITAL MARKETING INTEGRATED SIMULATION & CERTIFICATION PROGRAM